I heard from a Japanese man working in a F&B company in Singapore. He would like to own an outlet at Hawker Center. Dropping the price of a popular Japanese food, Tonkotsu ramen, he want to sell it to the masses.
And Hawker center, dining room for the general people. Dining options, such as a common food court on the first floor of the housing complex. Dozens of stalls are lined and tables are common. In Singapore both spouses are working, and they rely on eating out. Each dish is 3 to 4 Singapore dollars at the Hawker center. Public cafeterias sustain the lives of Singapore. There are about 100 locations across the country. He is trying to compete in this place.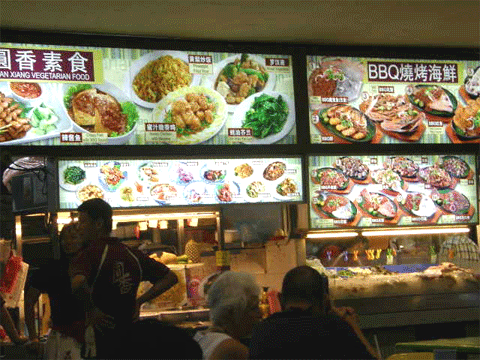 Hawker center
Government is the landlord, through a tender to borrow it. Information on rent flows on the Internet, you will bid for the desired amount of rent. Because it is determined by the highest price, it is also borrowed only $1, if there are no conflicts. Deposit is one month rent. However, the working people are limited to Singaporean. The Japanese man is qualified, because he has the right of permanent residence.
Start business with installing kitchen facilities in a vacant stall. Labor costs to clean tables is included in the rent. There are stalls selling 100 thousand dollars per month. You will be surprised to imagine how much profit. However, only privately owned outlets are accepted. One individual can afford 2 stalls in the 100 Hawker Centers.
In order to clear the regulation to build up multi-operation, you have to take the form of a franchise. Maintain the franchise agreement by supplying food to individual franchisees. He is committed to it.
"Suzuki" ramen shop located at Boat Quay. After working such as "Ippudo" in Japan, Mr. Yudai Suzuki opened his first ramen shop in Singapore in May this year. Some Japanese outlets have come to Singapore and also some Japanese have started their business in Singapore. I will support them also.
comments powered by

Disqus