Relationship between China and Japan is not stable now and Japanese F&B foray in Southeast Asia has been increasing. In particular. Especially foray to Singapore, the capital of Southeast Asia in a meaning, and Bangkok where many Japanese stay.
In Bangkok, Japanese companies relocated from China is likely to have increased. In 2011, Japanese residents were 50 000 people. This number seems to have increased. Exchange with Thailand and Japan dates back to the Edo Period, Japanese Association of Thailand was established in 1913, it is said that Thailand one has the longest history among Japanese Associations in the world.
In Bangkok, there are many Japanese restaurants in a long time. Now, I found the change of ownership so that they have started. Now in the world Japanese cuisine boom come. People in the world are accepting Today's Japanese cuisine. The young Japanese, who recently appointed, certainly would not eat out of old Japan. Times have changed too much since.
Boom to opening outlets in Bangkok by Japanese F&B continues. I feel they prefer to Bangkok because of the fierce competition in Singapore. However, I can not understand why they goes to Bangkok. Those who launch in Singapore, try to win the majority as a base in Southeast Asia. However Bangkok is not the case.
Young Japanese Izakaya owners have been flocking to Bangkok. They do not have to worry about the Japanese because their guests are Japanese. There are many Japanese who support their launching. Every day, they would be satisfied by Japanese language even in Thailand, as if they opened outlets in Japan. However, in relation to the exchange, it becomes too low and unfortunately translated into Japanese yen at a profit.
Some local people will come naturally if they do it properly. Especially many Thai like Japanese. Thai have no doubt to believe they are authentic Japanese cuisine, if they collect Japanese. However, Thai may refuse to go them if all the guests are Japanese.
Come, you are dealing with only the Japanese can go to Bangkok, I want to avoid. The low investment, low income when converted into yen. Rather than go for fun sometimes, whether to open outlets in Bangkok for what, I would like you to think about its significance.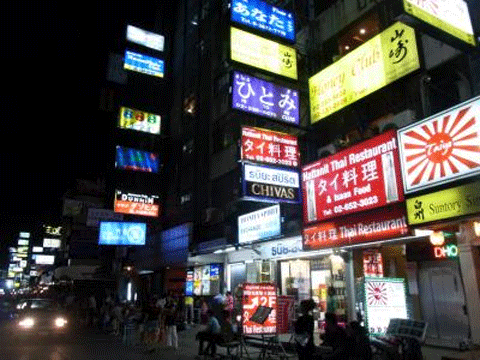 Thaniya Rd. in Bangkok
comments powered by

Disqus