November 21, 2012 10:59 AM
[Singapore]
By Valerie Lim Reported on November 15, 2012
Keywords : beer  microbrewery  RedDot
The name RedDot Brewhouse makes perfect sense. This 5 year old brand a local recipe: Singaporean husband and wife team Mr and Mrs Ernest Ng head the company - Mr Ng himself, is the resident brew master who brews RedDot's signature beers.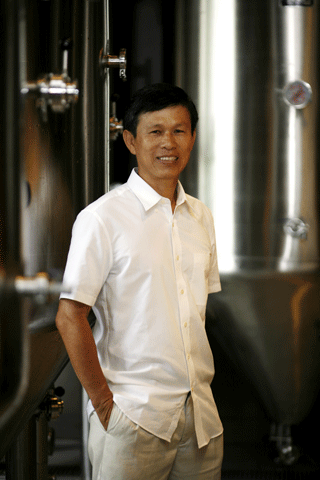 Mr. Ernest Ng, brew master
To me, what was pleasantly surprising to find out was that RedDot more than just a reflection of where the brand started. Like our little red dot of an island, there was another story behind the name RedDot. It started when Mr Ng was in South Africa on holiday and was offered an unlabelled bottle of beer from two soldiers in Kruger National Park. It was their way of saying hello to a visitor from Singapore. In the sweltering South African heat, the beer could not have tasted better. Mr Ng asked for the brand of the beer and was told it was home-brewed. He had never heard of home-brewed beer up till that moment. That was his first taste of home-brewed beer and the start of his journey into home-brewing. Having been assured by the soldiers that home brewing was possible, Mr Ng was directed to a homebrew shop in Johannesburg where he could buy ingredients to brew his own beer.
At the homebrew shop, he had a choice of whether he wanted to brew an Ale or a Lager. The ingredients were packed and marked with either a red dot or no markings. Mr Ng picked the one marked with the red dot. His choice of that packet in Johannesburg marked the start of his journey into microbrewing. After tinkering around with his own brews for 10 years and later, spending time in the States validating his brewing knowledge, RedDot Brewhouse was eventually born.
Back on the homefront, the Singaporean husband and wife duo come into the microbrewery business with 20 years of experience managing a construction business under their belts. The Dempsey premise is a quite simply a reflection of their love for buildings. RedDot Brewhouse at Dempsey was a passion that took almost a decade to materialize. The barrack had to be restored prior to setting up the microbrewery. With the building fully furbished, the lush green setting surrounding the Brewhouse and tranquil of Dempsey Hill made it a perfect spot to enjoy a hearty meal and good beers.
Their penchant for beautiful historical buildings led them to open their second outlet along bustling Boat Quay in a row of old Chinese shophouses December 2010. Situated near the heart of the financial district, the busy quay sees clientele from all over the world on a daily basis. The after work crowd enjoys the cozy environment of RedDot Brewhouse @ Boat Quay - a space where they come to unwind, relax and connect with people, while the visiting tourist crowd have a watering hole to go to after dinner to satisfy their craving of a taste back home. RedDot Brewhouse @ Boat Quay is the only microbrewery nestled along the Quay to bring the taste of authentic fresh German style beer to our shores. Premises are usually packed at this location on the weekends, so reservations are recommended.
RedDot Brewhouse has been offering freshly brewed beer using quality ingredients from Australia, New Zealand, Germany and the US for the past 5 years. Brewmaster Ernest's finesse for brewing delicious beer has also led him to create unique seasonal beers for RedDot - last month it was a Dracula beer that the Count himself would have been proud of.
Customers can expect to spend about S$50++ on an average for a main and a fresh brew while at RedDot Brewhouse. Rest assured that you will be well taken care of at RedDot Brewhouse because Mrs Ng personally manages the restaurant side of things, ensuring quality food and service across both outlets. Food satisfies the tummy while service touches the heart. It was evident to me while speaking to Mrs Ng, the RedDot family takes great pride in their business and has immense passion for the trade.
Mr and Mrs Ng were a wealth of knowledge regarding beer. I had the honour of having a quick lesson from them about the various beer cultures, benefits of beer and types of beer. They both also shared why beer is a better drink to pair with food especially in our local climate! The couple has no immediate plans to expand RedDot Brewhouse outside of Singapore even though the beer culture here in Singapore is in its initial stages. The owners of RedDot Brewhouse are certain this culture will only mature in time to come because we see the local crowd traveling abroad more often. With exposure to the beer cultures overseas, they return home with higher expectations for beers. Certainly, with microbreweries like RedDot Brewhouse in our midst giving us a taste of premium fresh beers, I can safely say my tastebuds have matured.

RedDot Brewhouse Singapore locations:
RedDot @ Boat Quay
33/34 Boat Quay, Singapore 049823
Tel: 6535 4500
RedDot @ Dempsey
25A Dempsey Road, Singapore 249679
Tel: 6475 0500
comments powered by

Disqus