Lebanon restaurant is populated by immigrant Lebanese in Europe and United State caused by Lebanon war in 1975. Today, its cuisine is known for vegetarian food and for healthy dieting purpose in Europe. Al Qasr is the very first restaurant introduced in Singapore.
Holland Village, Singapore 277698, Singapore
Tel:+65-6467-7793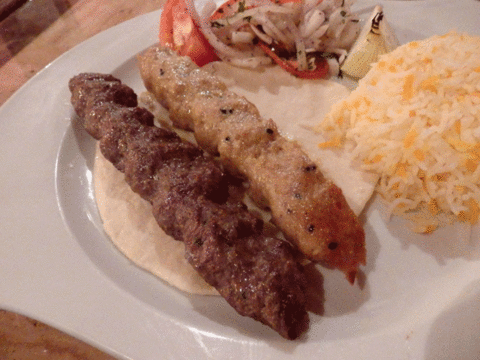 All-time Favorite! Kebab
Al Qasr is located in one of the most popular restaurant district of Holland village in Singapore. The restaurant is owned by 2 Caucasian and started off in 2000.The owners also manages a restaurant "Seven Seas" in Changi sailing club. There are about 5 Lebanese restaurants in the island and Al Qasr position themselves as the highest ranked fine Lebanese dining.
The interior is exotic feel as if you entered the world of Arabian night. It can easily make you fantasize and transform self into a table in Lebanese restaurant within capital city of Lebanon, Beirut, even I have never experienced in Lebanon or any of Middle East countries.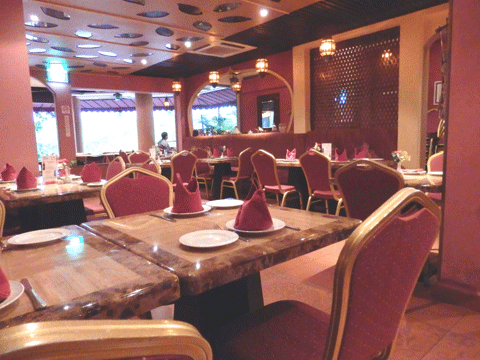 Interior atmosphere is the Arabian night!
Manager, Mr. Sawaliya Prasad told us "Most of ingredients are imported from Lebanon so it is as authentic as enjoying the taste in Lebanon."
"Singaporeans are health conscious. All of them try to understand what they are consuming. They prefer skinny and healthy." There was this statistic done by U.S. Bloomberg in August this year on "Healthiest country in the world" and Singapore was chosen as No.1 based on health barometer such as average life span and adult smoking rate. Japan fell on No.5 from top.
Budget for dinner is about S$50 however lunch is affordable as S$15 (Excluding tax and service charge). It starts with chickpea soup with squeezed lemon followed by Flafel; deep fried chick pea croquette, Hommos; Chick pea blended with tahini in roasted sesame paste, Tabbouleh; Parsley and bulgur (traditional Middle Eastern food that is a cereal food made with durum wheat) salad aside by pita bread.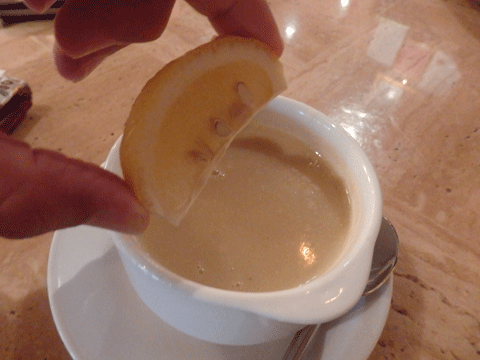 Chickpea soup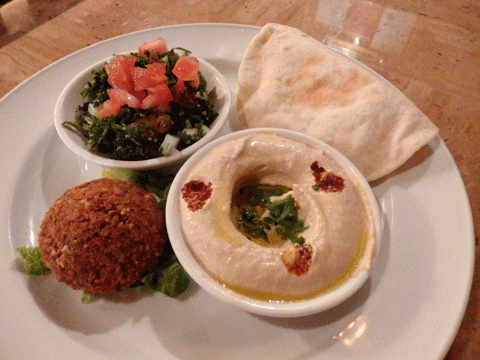 4kinds appetizer: Flafel, Hommos, Tabbouleh and Pita bread
Main dish is of course, Kebab. There are 2 choices of chicken or lamb. Saffron rice is at your choice as well. Lastly, daily dessert will be served. The dessert of the visited day was called Bakkawah which is rich, sweet pastry made with layers with nuts similar to French sweets, Mille-Feuille.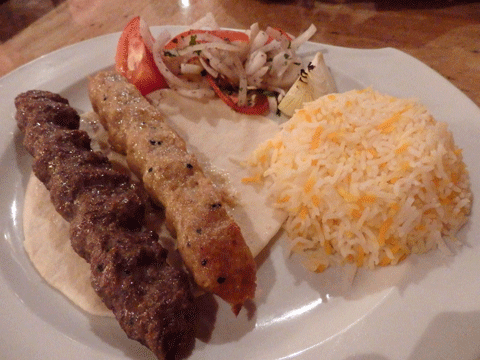 Kebab in Chicken and Lamb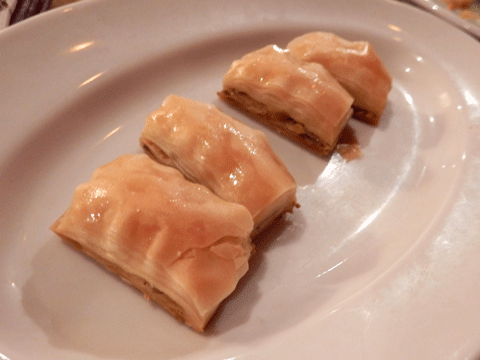 Bakkawah
Lebanon cuisine consists little amount of fats and oils. They do not use any daily product such as butter. Kebab is also cooked healthily and reduced fats however they made ingredient into paste so taste is full and not dry. It may be concerned that amount served is not enough because of vegetarian-like cooking method, but it satisfy you though out. S$15 is a surprising price for such a mouth full course. They also offer Lebanese wine at S$10 per glass, which is friendly taste and easy to drink. Lebanon actually started to make wines 5,000 years ago. After WWI, French culture and technique had adopted to Lebanese when the country was under France colony.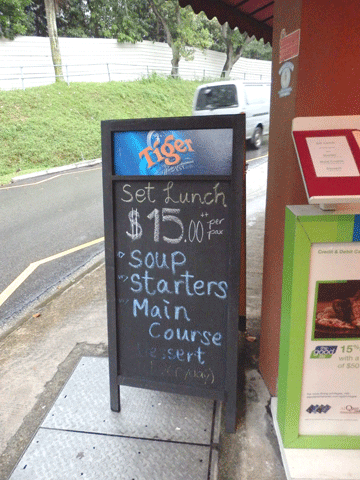 S$15 lunch is considered cheap for location of Holland Village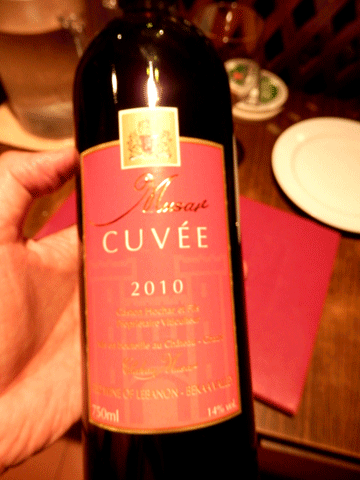 Lebanese wine
After lunch coffee was Turkish. Water is directly added into grounded coffee beans and boils. The coffee is served in the cup without using filter. And slowly watch those coffee beans sinking in the cup to drink. It is time to do fortune telling after you finish your coffee. Place the cup upside down on the saucer and watch coffee muds shaping into something. It appeared shape tells your fortune for the day. Most of the customer enjoys this fortune telling and you can also enjoy Sheesha in the night time as well.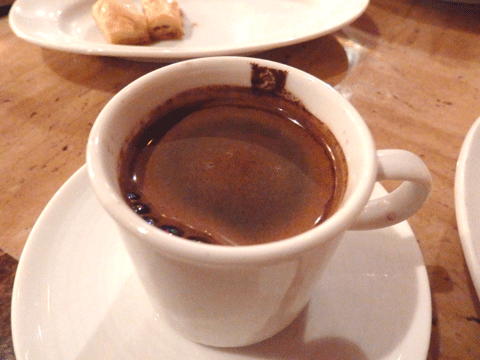 Turkish coffee S$4
Prasad said "There are many expensive restaurants in Holland village. By offering affordable lunch set menu, they will come back for dinner next time. S$15 is a promotional price"
The famous director of Renault Japon, Mr. Carlos Ghosn's wife, Rita who is from Lebanon opened a Lebanese restaurant in 2004 "My Lebanon" in Daikanyama city in Tokyo. Unfortunately restaurant had to close down in 2008 since adoption towards Japanese market was weak and branding of "Mr.Ghosn's wife" was not recognized enough to sustain a business. However It showed us how Micro-biotic diet and vegetarian cuisine culture is influencing the market slowly but certainly. It will be soon Lebanese restaurant will be highly recognized in the many market in the world.
comments powered by

Disqus