The hottest casual dining "Oreno Italian" and "Oreno French" (directly translated as My Italian and My French") had made drastic growth to 8 branches within 9 month since first opening on September 2011. The strength is excellent customer attraction by its cost performance. Director Mr. Sakamoto is the biggest second hand book store chain "Book off" founder. The company had gone public in the first section of Tokyo stock exchange. Next challenge is on another listing once again.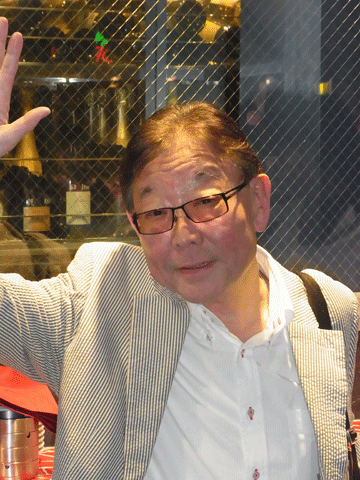 Mr. Sakamoto Takashi
Currently his group owns 8 branch including 5 branches of "Oreno Italian", 2 branches of "Oreno French" and 1 branch of "Oreno Yakinikuya" at Kamata Tokyo which offers A5 ranked Kuroge Wagyu at 3,000yen(S$46) newly opened on December 2011.
Management company is Value create Ltd., owned by Mr. Sakamoto Takashi who is founder of "Book Off" chain. He opened his first branch of "Book Off" in 1990 when he was 50 years old. On March 2004, company had gone public at second section of Tokyo stock exchange when branches are increased to 700 branches. In March 2005, company joined in first section of Tokyo stock exchange when branches are up to 800. He left his director position in June 2007 and joined F&B industry with current company on November 2009 when he was 69 years old.
Mr. Sakamoto said "reason for joining F&B? I was always concern about making system for employee to make their own businesses. But when company went public, I was busy making profits rather than employee happiness. When he left the previous position, it was his great chance to join F&B market. F&B industry is a fair trade. Only industry that allows small company to beat big companies. I can support employees as I wanted, which was the main reason I joined."
"Honestly speaking, I had bad experience on investing in a company who told me a good story of if you can make100 branches, company can go public. End up it was a company with full of debts. I tried to sell the 7 existing outlets but it was priceless. The only way to recover was to open my own business again."
I joined F&B seminars and learn to go against what big companies are doing. Do your own business method by going against what F&B manual tells you"
That idea created "Oreno Italian" The cost rate is average of 50% up to 150% depending on the menu. Famous celebrity chefs are hired. But each customer only pays 3,000yen(S$46).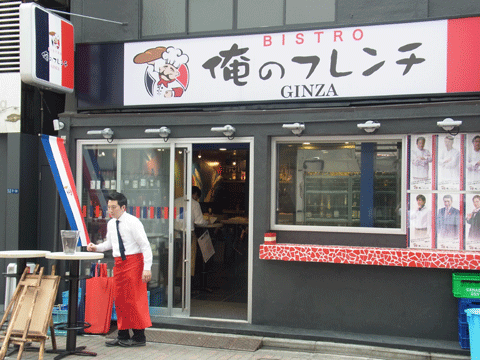 "Oreno Italian" opened in May 2012 Ginza Tokyo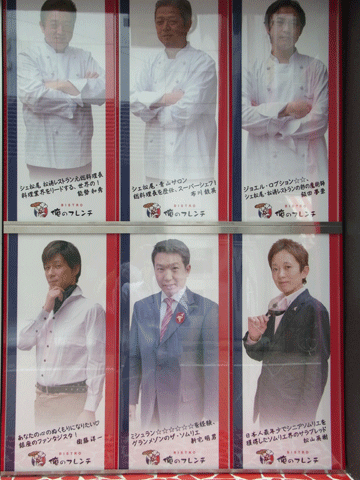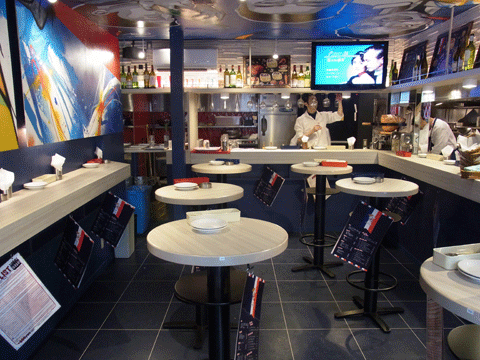 "Personal budget is always 3,000yen. I think there is 20 times bigger market than restaurant charges5,000yen"
"We are the business offers happiness to chefs and customers. Only 1 out of 10 chefs who graduated from cooking school stay in the industry for next 10 years. They study in the restaurant, spend much money on immigrating into overseas to learn in starred restaurant. But market in Japan does not let them cook what they want. So we offered the perfect stage for them."
F&B pays employee too little. There are no 10 million players. Higher the brand, the salary is low. The name value compromises the pay. Porsche and Mercedes managers are getting incredibly low pay because of the same reason. The chef agreed to his idea of making their own future bright. Venture business has same concept as starting a new religion. Once group of people are in same mindset and share same value, the path will open up.
Chefs from "She Matsuo" and "Hiramatsu" and other 3 starred restaurant experienced chefs are gathering around Mr.Sakamoto to share the same thoughts. Mr. Sakamoto directly goes down to the hired chef's place to meet them individually. Mr.Matsuo Kozo, previously from "She Matsuo" hit it off with each other and he is now the top adviser chef for the company.
"Chef's skill is definitely utilized. Cost will increase so we need to collect more customers. so standing bar concept came off. 2.5 times rotation is good enough to make a profit. We need to stay on absolute top to maintain the good rotation of customers."
"If you try to let them make a sample, they make a small portion because of their stereotype of making cost rate within 30%. I allow them to use as much ingredient no matter of cost. Chefs start to anticipate and excite about the company. I tell them busy is much better than boring. Chefs feel happy and motivated for their next move when they are watching and hearing customer's praise right in front of them."
First branch located at Shinbashi city achieved sales of 10.5 million Yen (S$164k) with in 573 square feet in May 2012. Company could sustain over 20% of recurring profit margin even there is dish with over 100% cost rate. This positive calculation is managed by executive managing director Mr. Yasuda Michio who has financial background from Nomura security and UBS security. He has strong mathematic skill and he gives an immediate profit count upon cost management.
"I will never comment of the dishes. I respect the head chef heavily. I let them do whatever they want to. I am actually a fan of Japanese food so I barely know about Italian and French. (Laugh) I eat Sushi 7 times a week, twice for Soba and once for Tempura."
"There is nothing below 45% of cost rate. Rossini (Foie gras on beef) has 120%! It is commonly calculated that rent cost should be 10%. However if you gain 3.5 times rotation of customer, rent percentage can be reduced to 2%. Sales figure solves all the concerns."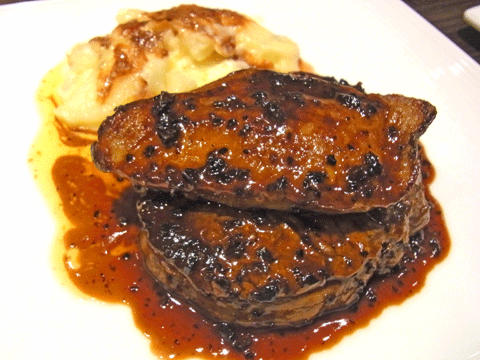 Cost rate of 120%, Beef Rossini (Foie gras on beef) 1,280yen (S$20)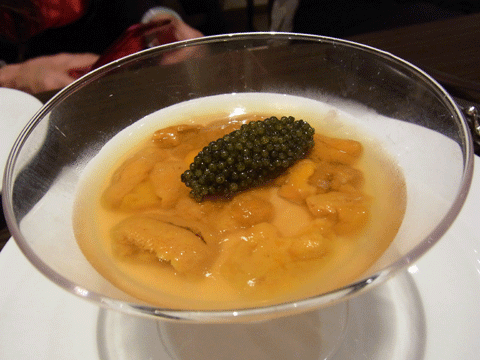 Sea urchin and tomato mousse jello 1,500yen (S$23)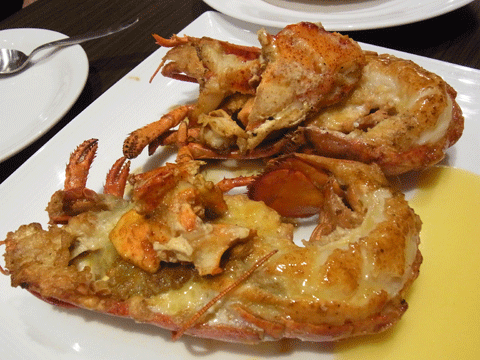 Omar shrimp 1,280yen (S$20)
"My business is not by percentage, it is about amount. If the buying cost is 100yen and selling cost is 300yen. Cost rate is 33% and gross margin is 200 yen. To gain same amount of gross margin, we can buy at 800 yen and sell at 1,000 yen. That creates customer satisfaction too. Many of F&B has stereotype in calculation formula based on percentage. If you can calculate the actual amount accurately, cost rate can be raised to 70%. Chef will shrink at the first but they will find it so much fun once they get used to it. There is no other owners think this way in this industry. This is a blue ocean for me. My thinking is hard core. I want to introduce "Oreno French" in Paris and "Oreno Italian" in Milan."
Sommelier from "She Matsuo" at Ginza branch, Mr. Shintani joined the company in January. The reason was "I sensed a crisis on F&B environment. There is many of sommelier at same level as me in France who is getting 10 million dollar salary. Where else in current situation in Japan, People with family have to force themselves to give us from the industry because of financial limit. That will lead the important culture to be abandoned. We need to make a big change from the roots. I got the feeling something may make a positive difference when I joined this company." He told us excitedly. Many chefs are coming along with same reasons.
From this year September, company decided to distribute to employees from 25% of ordinary profit every 3 month according to their qualification. Mr. Sakamoto insisted "This is not a bonus, it is a profit sharing. Bonus should be determined as company's good will instead of government forced rule."
The company also manages Japanese standing bar "Shimada" at back street of Ginza. The head chef is Mr. Shimada Hiroshi who experienced in 2 starred and 3 starred Michelin restaurants as well as Raffles hotel in Singapore. Pax budget is 5,000yen (S$78). Japanese cuisine has different marketing model as "Oreno Italian" and "Oreno French".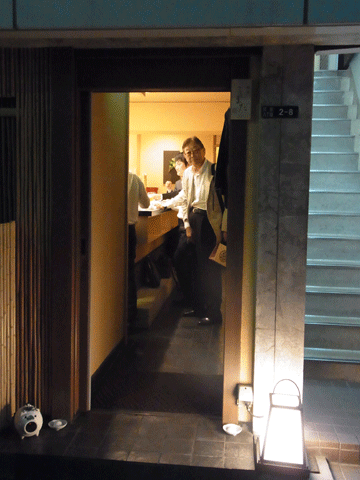 Standing bar "Ginza Shimada" 5,000yen (S$78)
"Shimada restaurant is independent sponsoring. I don't force to insert the branding of "Oreno". When I suggested to do a standing bar, Mr. Shimada told me that he has a pride, he has no way to do restaurant budget less than 30,000yen (S$460) I brought him to "Kanemasu" restaurant at Kachidoki city. The seats were full when we entered at 4:30pm. He gave me answer of "YES" after one and half hour time spending at the place. He said he was surprised that this quality food was at 5,000yen(S$78). And he told that he felt the change of trend. "
Strategy of Value Create Ltd., is to increase customer attraction by spending more on food cost, Speed up the rotation by having standing bar style, and maximize the sales. FLR percentage includes cost, labor and rent is reduced at the final figure. Ordinary profit is secured in the end.
"Let the chefs to be independent director by making affiliate company. Slowly distribute the shares. Head quarter will remain holding 51% as consolidate. Once head quarter goes public, each director from affiliate company will gain stock options which give them a bright motivation"
Their next intention is to make Jazz live house in Ginza city. Let professional artist play with authentic French and Italian serving. Single person budget is around 3,000yen (S$46) up to 20,000yen (S$184). It is different business method from usual. Mr. Sakamoto seems like he likes creators of music beside chefs.
Mr. Sakamoto tries to make a place where chefs and sommeliers really shine and to secure their salaries firm. Mr. Sakamoto pointed out that Japanese F&B is self-protecting, they are not aggressively grabbing sales.
comments powered by

Disqus